Community Physiotherapy Unit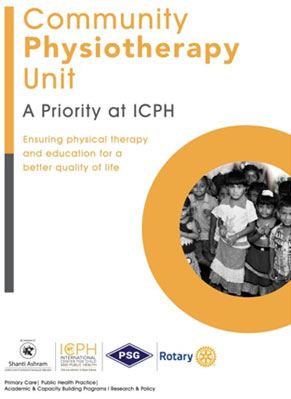 Health in India can be examined in terms of multiple indicators, which vary by geography, socio-economic standards and culture. To adequately improve the health of women and men in India, multiple dimensions of wellbeing must be analyzed in relation to global health averages. Currently, women and men in India face a multitude of health problems, which ultimately affect their personal lives as well as the country, its productivity and economy.
3 contemporary conditions standout and have to be addressed in our efforts to improve the quality of life of our general population at large and contribute towards the wellbeing of all.
They include:
The Double burden of disease both non-communicable and infectious diseases combined. It has added to itself another dimension -the chronicity of diseases.
Obesity is increasing rapidly in India. Childhood obesity is becoming an everyday outpatient problem. According to the data from the Obesity Foundation of India, more than 3 percent of Indians are clinically obese and a whopping 25 percent are overweight. It is therefore not surprising that 1 in 3 women experience low back pain, knee pain, and many a time it is due to being overweight and due to lack of physical activity.
Added to this, are the challenges of mobility in the elderly. A physiological decline in immunity as well as age-related physical changes leads to morbidity in the elderly. Support services for the elderly are yet to be well structured and are expensive.
Besides quality medical services, availability of a series of allied health services like nutritional counseling, mental health services, physical therapy, social support and creative volunteering are still not fully integrated into primary health care models. There is proven evidence of allied health services impacting the above health challenges amongst children, women, men and the elderly as well as improving the quality of life amongst vulnerable sections of the community.
At the request of our patients and community representatives we therefore would like to add the much needed service of physical therapy with the following goals:
Bringing high quality and affordable physiotherapy to vulnerable communities
In partnership with PSG College of Physiotherapy, explore the potential to start innovative interventions for women and girls in adolescence, pregnancy, menopausal age group and the elderly.
Annually 1500 children, women, men and elders from Kovaipudur and surrounding villages are expected to benefit from this unit. Of this in each of our monthly clinic we wish to reach at least 100 vulnerable elderly women.